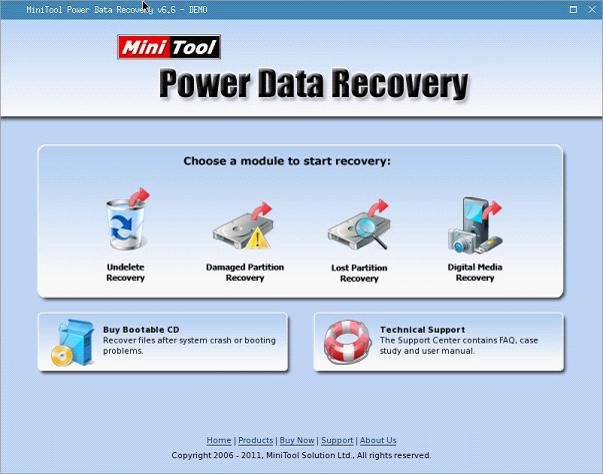 MiniTool Power Data Recovery is the all in one and easy to use data recovery solution for Windows and Mac.
The program not only helps you recover deleted files but also recovers data from damaged, reformatted hard drive. It supports a variety of devices, not only hard disk and RAID but also it's able to recover data from CD, DVD disks, memory card, memory stick, and flash drive.
The software suite includes five data recovery modules to satisfy all user needs: Undelete Recovery, Damaged Partition Recovery, Lost Partition Recovery, Digital Media Recovery and CD/DVD Recovery.
The Undelete Recovery module works only with deleted files and allows user to "undelete" them, it supports FAT and NTFS file systems and hard disk, flash drive, memory stick, memory card and flash card.
Damaged Partition Recovery module can be used to recover data when the hard drive is reformatted or becomes inaccessible for any reasons.
Lost Partition Recovery module is designed to recover data from lost/deleted partitions.
Digital Media Recovery module could help you recover lost data from digital media device.
CD/DVD Recovery module is designed specifically to recover lost and deleted files from damaged, scratched or defective CD and DVD disks.
In addition MiniTool provides Power Data Recovery Disc (can be buyed separately) that facilitates data recovery when operating system is damaged. With it you can make bootable CD/DVD and USB flash drive that can be used for data recovery.
The Windows version supports all 32 and 64 bit OS: 2000, XP, Vista, 7 and 8 plus Windows Server 2000, 2003, 2008 (these last three need a commercial license of the product).
There are various versions of MiniTool Power Data Recovery. The free edition can recover 1gb data and provides the most powerful data recovery abilities for home users for free but some functions are locked. To unlock these functions, you need to register your copy of MiniTool Power Data Recovery with a license key. With a Personal License, you could use your copy of Power Data Recovery in your home for the registered computer.
Giveaway:
In order to thank our readers MiniTool kindly sponsors 5 licenses for shareware Power Data Recovery + Boot Disc personal edition. To receive it follows these 2 steps:
– share this article in social networks (the post must be set to public)
– leave a comment (using a valid email address) and report the link of the share and specify why you would like receive the license
Users will receive an email soon with the license info.
The giveaway is valid for 1 month from the date of this published post.
Support This Site
If you like what I do please support me on Ko-fi