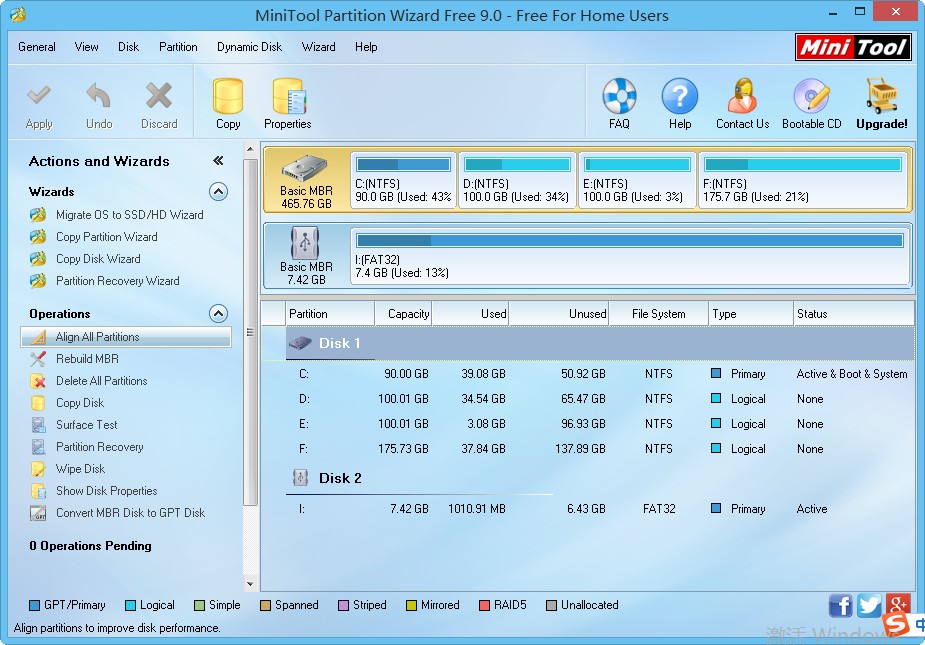 MiniTool Partition Wizard, actually at 8.1.1 version, is a very good Windows software for partition management.
It's available in different versions to satisfy any user needs, the Home Edition which is 100% free, and 4 commercial versions: Professional Edition optimized for business environment with advanced features such as merge partition, convert dynamic disk to basic disk and change cluster size, server edition specially designed for Windows Server 2000/2003/2008/2008 R2 and Technician Edition is a valuable and cost-effective licensing option for technicians and consultants.
The Home edition has all functions designed for home users, including: resizing partitions, copying partitions, create partition, extend partition, split partition, delete partition, format partition, convert partition, explore partition, hide partition, change drive letter, set active partition, partition recovery.
The software supports 32/64 bit Windows Operating System including Windows XP, Vista, Windows 7 and Windows 8.
You can also download MiniTool Partition Wizard Bootable CD iso file for free which let manage partition without installing anything on your computer or if an OS isn't installed and it has the same features as of MiniTool Partition Wizard Home/Professional Edition.
From MiniTool Partition Wizard 8 a Bootable Media Builder application is provided to easily create a bootable media (CD/DVD/USB Flash Drive) for MiniTool Partition Wizard Professional Edition and other advanced versions.
Giveaway:
In order to thank our readers MiniTool kindly sponsors 3 licenses for the Professional edition. To receive it follows these 2 steps:
– share this article in social networks (the post must be set to public)
– leave a comment (using a valid email address) and report the link of the share and specify why you would like receive the license
Users will receive an email soon with the license + download link.
The giveaway is valid for 7 days from the date of this published post.
Support This Site
If you like what I do please support me on Ko-fi