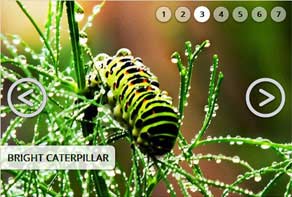 WOW Slider is a fully featured jQuery image slider and gallery available both for Windows and Mac.
In the program you can set up the images and various parameters available in an easy way within an intuitive interface, in few steps you can create your own slider and publish it to a local folder or ftp server, or insert it in an HTML page or as Joomla module or as WordPress plugin, so it can satisfy any user needs.
Without coding and image editing you can create fantastic sliders in seconds with a point-and-click wizard and the interface support 25 languages.
WOW Slider has many features, the main ones are:
– responsive slider (so optimized also for mobile devices)
– many cool effects transitions
– fancy templates that can be used
– lightweight (few kb) and valid and clean code
– doesn't require Flash and graceful degradation to CSS only
– you can add descriptions, prev and next controls, bullet navigation
– you can set speed, delay, size etc…
You can see some nice demos of the slider in action and the great customizations that it offers!
You can download a free versione both for Windows and Mac or buy the commercial version.
CONTEST:
WOW Slider developers have been kind enough to offer us 1 license of WOW Slider to be given away to Simo blog readers. It can be activated in 2 computers and both for Windows and Mac. The Business License is for life, it also includes 1 year of free upgrades.
After the free upgrade period will expire, user will be able to upgrade the license for only the 50% of the current license price or continue to use version received as a last free upgrade.
In order to partecipate to the contest and have chance to win follow carefully the rules, good luck!
Simo blog respects your privacy: your email and Twitter/Facebook account addresses will not be used for any other purposes.