Xilisoft Mobile Phone Manager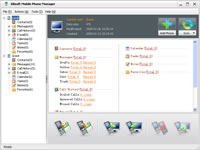 version: 1.0.36.0807
size: 7.81Mb
You can connect it via USB and Bluetooth. At start you must create an account (it's done in easy way and directly from program). The software is available both in English and Chinese.
Once started click on Add Phone to add your device, the simple wizard will do the rest.
The main program features are simple and made with big icons: make backup and restore data, copy phone data on pc and viceversa, copy data from phone to another phone, sync phone/pc.
Unlucky i cant make full test as my device (Nokia N70) is not recognized, or better yes but will remain at a waiting state forever; maybe i think because (as written in the site) the supported devices are just Windows Mobile.
pro: easy interface, works with Windows 7
cons: just Windows Mobile supported
Microsoft Phone Data Manager
version: beta 2
size: 4.12Mb
Unlucky i cant try it as it's 32bit only compatible, but at this page you can know more about it (requirements, supported devices, etc…)
pro: USB, bluetooth and Wireless connections; if you have an Windows Live ID you can syncronize with Hotmail contacts, various supported devices
cons: still in beta, 32 bit OS only support
MOBILEdit! Lite
version: 4.0
size: 20.7Mb
At start the wizard guide the user easily, USB/serial, bluetooth, infrared, file (Android) connections supported. At main menu you have the backup, read phone data, write data on phone features. Other interesting features are synchronization (eg. with an e-email client) and audio, photos and video features.
pro: it also supports card SIM readers, it support many kind of connections, Windows 7 support, many devices are supported, various features available (not just backup)
cons: it's available for free in the Lite version but with limited features after 30 days